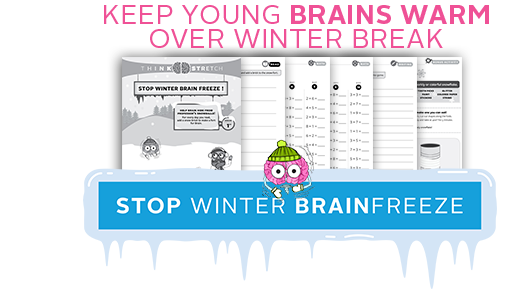 Send home our BrainFreeze packets over Winter Break and have students return to school ready to learn in January. Plus, it's FREE!!!
FREE BrainFreeze Packets
Designed to keep young brains from icing over during their time away from school, each grade specific packet contains:
Math Facts for 10 days of quick review
Winter Writing Activity
Bonus Activity for winter science and art fun!
BrainFreeze packets are FREE and available for Kindergarten through 5th grade.
It takes only 3 easy steps to start:
Download BrainFreeze for your school
Share the grade specific BrainFreeze packet with your teachers
Ask teachers to share the packet with their students
It's that EASY! Keep your students minds active this Winter break so that they are ready to learn when they return!