10 FREE Educational Apps with Value
https://thinkstretch.com/wp-content/uploads/2018/12/image.jpeg
1100
733
admin
https://secure.gravatar.com/avatar/93c049233ae4b274f7b3b443765808b9?s=96&d=mm&r=g
With little hands constantly grabbing for tablets and phones, it's important to make sure their screen time has value. Apps for kids are a dime a dozen, but not all are created equal. We tracked down the best free educational apps so your young learner can make the most of their time with the touchscreen. All while having a blast, of course!
codeSpark Academy: Kids Coding (4-10, ESL friendly)
This app is a reading-free tool to teach children how to code. That's right, there are no words, meaning reading level is not a factor in this learning interface. The app uses various interactive puzzles, games, projects, and game design to teach programming. The daily activities personalize to up to 3 children's progress and allows them to use the concepts they've learned to code their own new games within the app. Enjoy a free week trial to test it out, but after that a subscription is required.

GoldieBlox and the Movie Machine (4-8)
Rated E for Engineers! Kids can learn the fundamentals of animation using drawing, coloring, photography, and stickers to create animations of their very own. Little directors will have a blast putting their creativity into action without interruptions from advertisements or in-app purchases. Colorful, well-drawn graphics and a wide selection of settings, characters, and props will surely satisfy the needs of any script.

Spelling Stage (4+, ESL friendly)
Character customization, fun narration, and engaging animation make this spelling app a must-have learning tool. The educational app is free to download and try out, but full access requires a subscription purchase. Based in spelling competitions from kindergarten to national champions, students at any level can hone their spelling skills. It features various difficulty levels with subcategories that include different aids such as audio hints, images, and definitions. This year's spelling bee won't know what hit it!

Todo Math (3-8, Dyslexic and ESL friendly)
Set off on a daily math adventure with this free app. Ten to fifteen minutes of practice a day and your student will be well on their way to mastering counting, geometry, mathematical reasoning, telling time, money, and more in no time! With a selection of over 700 different activities, players could select a different game every day for year and a half and STILL not run out. Also, for all you lefties out there, the app has a left-handed mode just for you!

Book Builder (0-5)
It's a choose your own adventure book, app-style. Interactive and engaging, this storybook app features read-along text to help early readers navigate through multiple exciting scenarios. There may only be two stories, but there are over 30 different endings to discover. Kids can pick where they want to go and what they want to see in their story. Faraway islands, space, magic worlds, oceans: the options go on and on. Screen time here counts as an important step to improving literacy and fundamental reading skills.

Pet Bingo – by Duck Duck Moose (6-8, ESL Friendly)
Bingo with a twist! In this game, students must use their math skills in tandem with their strategy skills. You can choose between addition, subtraction, multiplication, division, and mystery mode, as well as the level of difficulty. Once the game starts, math problems appear with their various answers on the bingo card. Kids must not only find the correct corresponding answer, but also choose the one that will put them in the best position to win a bingo! There are no free spaces here either!

DuoLingo (4+, ESL friendly)
About 300 million users across the world use this app to learn new languages completely free. The app offers 81 different courses over 37 different languages, including Japanese, Spanish, Navajo, and even Klingon! Don't think they'll just be using flashcards either. Listening, speaking, and reading are all creatively incorporated in various ways. The app is completely gamified with a daily streak, lives, and challenges. Just two lessons a day (about 5 minutes) keeps that streak and sets your student on the path to bilingualism.

Habitat the Game (6-8)
Time to welcome a new member to your family! That's right, you just adopted a polar bear. In this app, kids take care of the endangered species by completing missions with real-life conservation efforts. Missions include actions like turning off unnecessary lights and the water as they brush their teeth. This earns them coins to spend on taking care of their bear. Students can play while making a real-world difference when it comes to the effects of climate change.

Prodigy Math Game (7-14)
Think math skill practice merged with an interactive adventure game. Over 15 million teachers use this completely free app to help their students learn math, and you can use it at home too! Students choose their grade and battle monsters by solving various math problems as they explore a virtual world of adorable graphics and characters. The app aligns with common core curriculum standards and uses an automatic in-game assessment system to gauge the skill level of the user and challenge them accordingly. With over 900 types of math problems, this app will challenge and delight any student.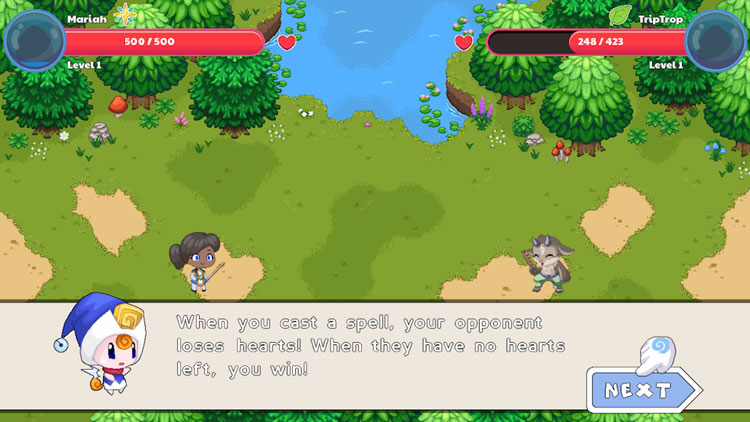 Real Scary Spiders (6+)
Not every kid is into cutesy graphics and animals. In this free app from Animal Planet, real-world species of exotic spiders combine with augmented reality to create a creepy crawler educational experience. Children learn about different types of arachnids, while taking care of one of their own. Spider facts and trivia are sprinkled throughout this easy going app. The graphics are realistic, but not so much so that you'll actually think there's a tarantula on the dinner table!